Our Community Hospital / Byran Health & Rehabilitation
Radiology Department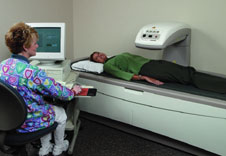 Bone density testing
What is osteoporosis?
Osteoporosis is a deteriorating condition that affects the bone mineral density or bone mass. Osteoporosis causes low bone mass over a period of time if not treated and prevented. You can prevent bone loss before it starts by having a bone density scan or dexa scan. As we get older our bones get weaker and may be at risk for a fracture. Bone density testing is safe and effective. This test is painless and is annual screening for osteoporosis. Your doctor will recommend when you should have your screening and deiced your treatment.

Why you should be concerned about osteoporosis
Risk factors
Ask your doctor about dexa scan if you have had any of the following: History of falls, osteoporosis, prior fracture, smoking, weight less than 120lbs,on long term steroids, COPD, Irritable bowel syndrome, and Rheumatoid arthritis and others.
Any of the following can affect your bones and once you have bone loss it is hard to reverse the bone loss. The greatest risk of having osteoporosis is fragile bones that can lead to a fracture. People who have osteoporosis and have had a fracture are at a greater risk of not being able to take care of themselves.
Here are a few ways you can prevent falls and fractures
1. Eat a proper diet
2. Exercise regularly
3. Medications- prescribe by your doctor can help reduce your risk of fractures. Ask your doctor.
4. Modify your home- good lighting, rearrange furniture for easy pathways though your home, store mostly used items at waist height, bathtub grab bars.
For more ways to prevent falls go online at North American Menopause Society
Screenings are Available Monday-Thursday Hours 8am-4pm

No appointment needed
Bring referring doctors order with you
Do not take your calcium pills the day of you test.
Thank you

Call radiology department for further Information 252-826-4144 Ex. 216